Das Geheimnis der gelben und blauen Deckelbehälter
As in many other corners of Planet Earth, we in Hungary also recognized that waste management is essential, and created the legislation
Act CLXXXV of 2012
on waste .
The purpose of this Act is the protection of the environment and human health, the mitigation of environmental impact, the efficient management of natural resources, the reduction of the impact and improvement of efficiency of the use of resources, as well as the prevention of waste and its harmful effects, the reduction of its quantity and hazardousness, the re-use of materials, as well as higher rates of waste recycling and environmentally sound disposal of non-reusable and non-recyclable waste.
Nice wording, but what shall WE do?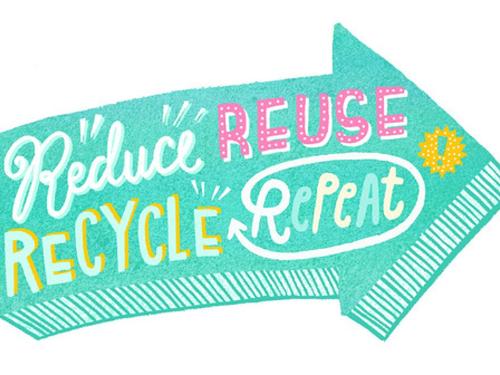 REDUCE the waste production: drink tap water, bring your own bag when shopping, redesign your clothes instead of buying new ones in every season
REUSE food containers until broke, plastic bags until ripped, use your old clothes for craft or donate them, buy second hand
RECYCLE collect as designed by local collector company so new product can be built from trashed material (textile from plastic, recycled paper products)
(Feel free to add your own ideas when sharing thoughts!)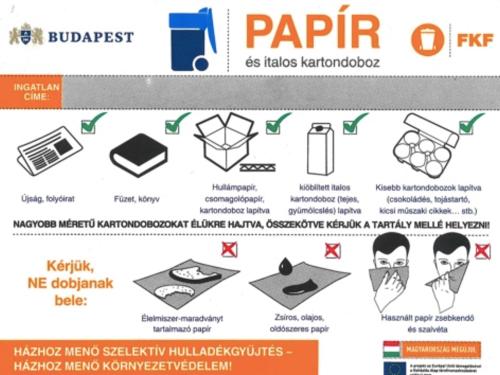 In Budapest around 900 public collection island exist (
https://www.fkf.hu/szelektiv-hulladekgyujto-szigetek
) with big containers for white and colored glass, paper, plastic and metal waste.
At households, only 2 containers are used for CLEAN waste separated collection.
Please rinse the box or container before placing it into the containers. No milk, juice or food allowed in trashed items!

BLUE
lid container is for PAPER (Do NOT put used napkin or paper towel!)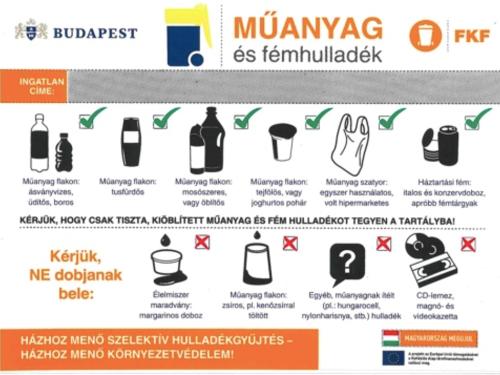 YELLOW is for PLASTIC and METAL waste (Beer cans and PET bottles rinsed and flatten!)
For further details consult the FKF picture attached or on the top of the containers!

Please consider the environment before you produce, buy or throw out an item WE HAVE LIMITED SPACE ON PLANET EARTH!

Thank you!